This post contains affiliate links which may earn me commissions should you click through them and take certain actions. As an Amazon Associate I earn from qualifying purchases. See
full disclosure here
.
I'm loving the Pregnancy Essentials Bundle from Earth Mama!  Find out about this awesome organic set of products for pregnant mamas.
I've learned through recent experience that we are asking our bodies to handle an over-abundance of toxic chemicals on a daily basis.  My struggle with health issues makes me much more aware of what I'm ingesting and putting on my body.  I'm even more aware of the kinds of things we're putting on our babies.  With this pregnancy, I'm much more cautious of chemicals I use and foods I ingest, because I truly want to give my unborn baby the best possible start in life.  If I can reduce the amount of toxins he's exposed to before birth, we should all be better off, right?  What mama wouldn't want that for their kids?
I'm happy that Earth Mama Angel Baby Organics has been kind enough to provide me their wonderful Pregnancy Essentials Bundle for review.   This bundle is designed to help me maintain a more healthy pregnancy, while caring for myself and baby with fewer toxins.
What Comes in the Pregnancy Essentials Bundle?

The first items I had to try were the Body Butter and Stretch Oils.  My growing belly and chest have been extremely itchy during this pregnancy, unlike anything I remember with my first.  I hardly ever get relief.  In the morning, I rubbed the body butter on my expanding tummy and I received instant relief from some mild itching I was experiencing.  The lotion was creamy, absorbed quickly, and smelled wonderful.  The stretch oil I found extremely useful at night before bed for long-lasting relief.  In fact, I didn't find myself waking in the middle of the night as I had previously due to the itching.
Mama-To-Be Tea Sampler

The tea sample has 4 teas with 4 bags each for you to enjoy.

I started with the Peaceful Mama tea after a long day.  The flavor was mild and soothing and didn't need much sweetener.  I found this blend to be particularly useful in soothing me before bed, though I did use it once mid-afternoon to help relieve some tension.  

The Morning Wellness blend is supposedly good for your first trimester nausea.  I found this to be a mild, but earthy flavored tea that also didn't need much in the way of sweetening.  

I opted out of trying Heartburn Tea as I haven't experienced heartburn with either of my two pregnancies.  I'm also saving the Third Trimester Tea for my third trimester … I'm uncertain of the effect it may have in my current trimester, so I thought I would be best to just hold off.  I am looking forward to trying this one though as the special herb blends are supposed to help your body prepare for having your new baby!


Morning Wellness Aromatherapy Spray

The Morning Wellness Spray is an amazing citrus scented aromatherapy spray.  There's a hint of ginger included to help with morning sickness.  I'm passed that point in my pregnancy, so I can't vouch for its effectiveness.  What I can say is that a simple spray and sniff of the citrus scent offered an immediate boost in my mood.  My only gripe about the spray is that the scent doesn't seem to linger as the mist quickly falls to the floor.  My suggestion is to have a handy (clean) rag or handkerchief available to spray the mist on to keep the smell around longer.  Perhaps if you're wearing a scarf, you could even spray some on that.  Even my young daughter enjoyed the scent of the spray and asked me to spray more for her.  

Happy Mama Body Wash
I really enjoyed this body wash.  The pump spits it out pre-foamed, which can be helpful if you don't have a body puff.  The smell is really light and refreshing.  The big bonus for me was that my lady parts didn't become aggravated by this soap.  That's an amazing feeling because my parts have become super sensitive to almost everything in the last couple years.
Mint Herbal Lip Balm
Another nausea assisting product that I couldn't test against nausea since I'm in my second trimester.  However, I loved the smell of the balm.
Overall Pregnancy Essentials Bundle Review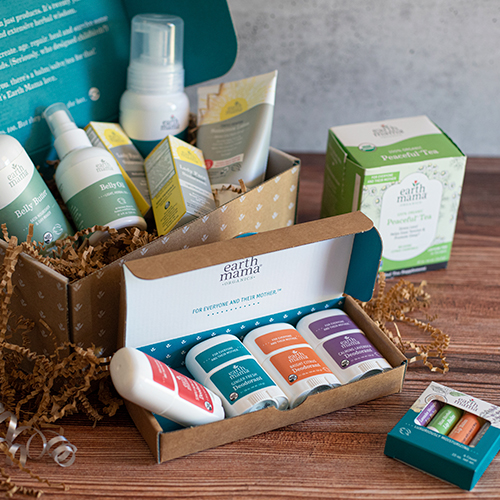 I'm extremely pleased with the quality of the products I tested, and happy to have found a wonderful organic brand.  I'll definitely be looking at postpartum and new baby products in the near future!  As a bonus, the teas are Non-GMO Project verified, which gives me more confidence that I'm making a healthier choice for myself and my unborn baby.
I felt so pampered with the pregnancy essentials bundle from Earth Mama!
I think it's a perfect gift for a mama-to-be, even if that happens to be yourself!  At the time of this writing, this bundle comes with everything shown above plus a mini organic tote for $59.95 shipped (plus any applicable taxes if they apply to your order).  If you're wondering what my top choices would be, if you didn't want to buy the whole bundle, I'd have to choose the stretch oil and body butter.
Because I enjoyed the bundle so much, I added a few postpartum and baby bundles to my baby registry, to continue the healthy pampering when baby arrives!
What do you think about this bundle?  Visit Earth Mama Organics and pick out something pampering for yourself or your new bundle of joy!
Other posts you may enjoy
Was this article helpful?