This post contains affiliate links which may earn me commissions should you click through them and take certain actions. As an Amazon Associate I earn from qualifying purchases. See
full disclosure here
.
I have been provided a Dream Team Pet of our choosing in exchange for my honest review and opinions. No other compensation was provided to complete this review.

I've said, many times over, that my daughter is a wonderful sleeper, though there are nights she certainly fights sleep. Some of those nights, she's stayed up way past bedtime and then she gets her whole schedule out of whack. When the days and weeks are longer during those phases, I can't help but wonder what parents do when they've never had a good sleeper. What sleep training methods are out there? Are they effective?
I was happy to be given the opportunity to try out Dream Team Pets to explore a new approach to sleep training. I sat down at the computer and showed my daughter the 3 available pet options. She chose the pink cat and I ordered it immediately. Which one would you choose? Cat, dog, or lion? I was hoping she would choose the lion, but pink cat it is …

What are Dream Team Pets?
Dream Team Pets are your child's pet that they believe they are training to sleep and rewarding good night's sleep with stickers. The great part about it is that your child is learning to sleep train themselves in the process.
Dream Team Pets is much more than a bedtime toy-it's an innovative kid's sleep aid that helps end the bedtime battles of trying to keep your child in bed. Developed with the help of a pediatrician, Dream Team Pets bedtime routine empowers kids as they reward their Pet with stickers and a certificate for a good night's sleep. If the child wakes up from a nightmare, there are no hard feelings because the responsibility is on their Pet, but when they successfully sleep in their own bed, the kids feel a sense of accomplishment as they reward their Dream Team Pet. What makes this unique is that the kids think they are training their Pet, but really they are sleep training themselves! My Readers receive 30% Off Dream Team Pets with Promo Code: USFGUIDE.
Each pet comes with a book of bedtime routines (how to train your pet) and a sleep training certificate.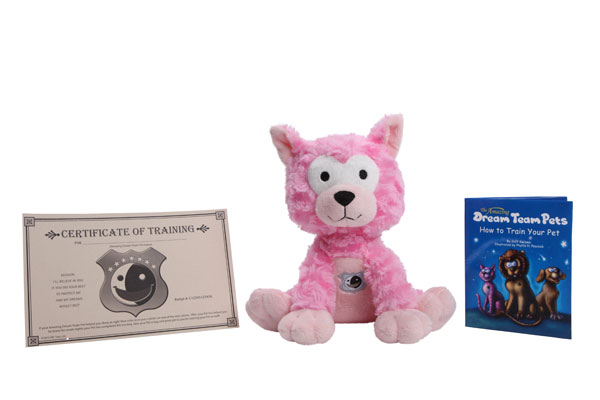 Our Review of Dream Team Pets
My daughter has been a good sleeper since she was about 8 or 10 months old, but this opportunity came to me just as we were preparing for our Disney World Vacation. I figured a week at Disney was going to mean a total change in sleep habits, so I thought this would be an appropriate item to review. If you're interested in a new sleep-training technique for your child(ren), keep reading my review.
For starters, I let my daughter choose 1 of the 3 pets offered and she chose the pink cat. When the package arrived, she was extremely excited about her new cat and couldn't wait to read the book and play with the pet. I felt it was a good start that she was immediately connected to her choice. In the week that we returned from our vacation, we used the Dream Team Pet set. It was cute listening to my daughter recite the motto to her pet before bed.


At the first reading of the book, we found out the cat had magical powers, turning monsters into flowers. When I read about that, my daughter told me she didn't like monsters or flowers. Thankfully the book let us know that the pets can do whatever a child wants, so I told her to teach her pet a different trick. She decided she wanted the cat to turn monsters into dinosaurs (I'm not sure how that's less worrisome, but whatever floats your boat kid). I left her with her pet at night and reminded her she needed to help the cat learn to go to sleep. Within the first couple days, she was falling asleep rather quickly again, and our late nights stopped.

Do you have sleep training methods that worked for you? Do you think this looks effective?


Connect with Ivy on Google+

Liked this article? Sign up for FREE updates!
Disclosure: To help support this blog and continue to bring you free content, Ivy's Variety posts may contain affiliate marketing links, receive free products for review, and/or consist of paid or sponsored posts. You will not pay more when buying a product through my link. Please see my disclaimer page for more info.
Was this article helpful?