A big list of amazing backyard swing set options for backyards of any size.  You're sure to find a swing set you and your kids will love.
Still looking for that BIG present for the kids?  We finally decided that it was time to replace our old wooden swing set.  We purchased it used about 4 years or so ago and it's been in need of some repairs.  Instead, we chose to upgrade to a brand new one.  But, it got me thinking about swing sets in general.  There are tons for every budget and different amenities.  I'm sharing a few of my favorites (most with pretty good reviews) from the affordable to the "who the f*** has that kind of money" backyard swing sets.
This post contains affiliate links which may earn me commissions should you click through them and take certain actions. As an Amazon Associate I earn from qualifying purchases. See
full disclosure here
.
Small to Big Backyard Swing Sets for Every Budget
I'll work my way up from the super affordable small metal swing sets to the large wooden swing sets dreams are made of.
Super budget-friendly metal swing set with 2 swings, trapeze, and a small slide.  Currently $79

If you need to accommodate more children or just want a couple more options, check out the Sportspower Live Oak Metal Swing Set.  $149 gets 2 swings, trapeze, glide ride, slide, and teeter-totter.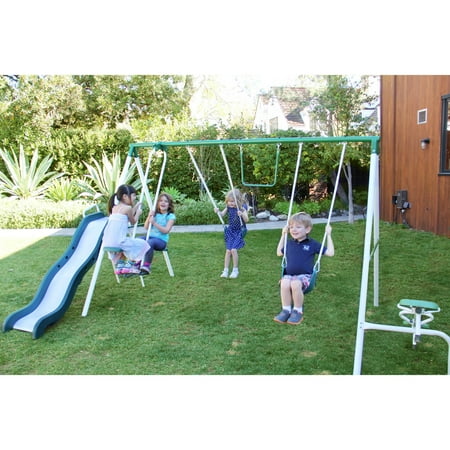 Check out the IronKids Inspiration 250!  This metal swing set offers two swings and a trapeze under a shade tent (perfect for protecting yourself from that nasty Florida sun).  To either side, there's a small slide and a small trampoline.  Currently $197.99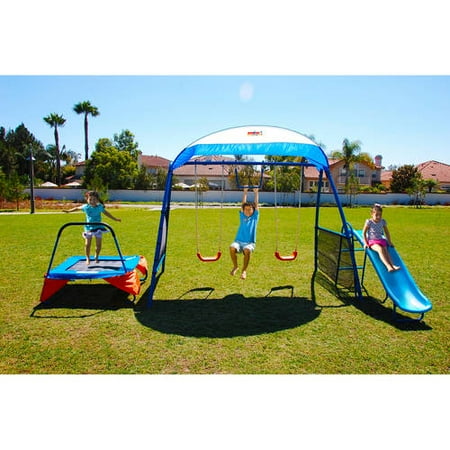 At the time of writing this, the Backyard Discovery Prescott Wooden Play Set is offered at $299.00 plus $29.97 shipping.  This offers 2 swings, 1 hanging swing, and a covered platform to climb up to and slide from.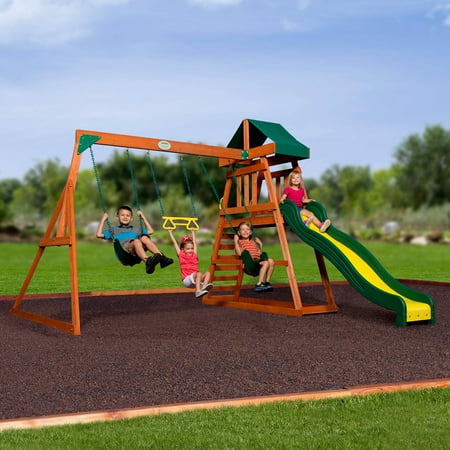 The Backyard Discovery Beach Front Wooden Cedar Set is currently $1249 + shipping.  This amazing looking swing set offers, swings, slide, monkey bars, an upper fort, and seating on the bottom.

My personal favorite!  This one offers a long open slide, a large enclosed slide, a playhouse with a kitchen on the bottom, an upper clubhouse, and swings.  There's a little something for everyone and perfect for sharing some fun time with your playgroup or neighborhood friends!  Currently, this Cedar Summit Castlewood play set is on sale for $799, which is more than half off!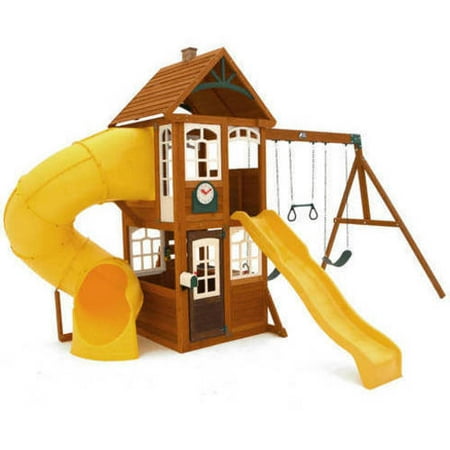 The Backyard Discovery Skyfort II is a really large wooden playset perfect for little adventurers with tons of imagination.  You're sure to keep your kids active outside with this backyard swing set.  Currently, $1455.99 with free shipping or ship to store options.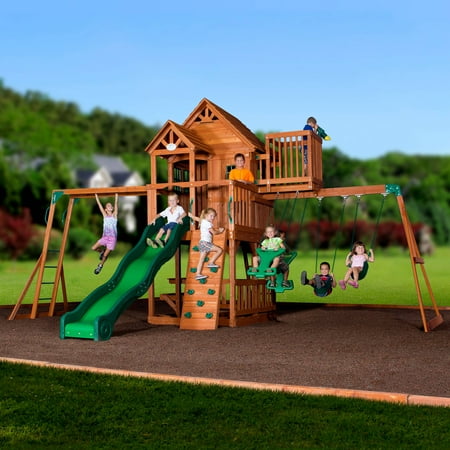 This Gorilla Playsets Catalina Wooden Swing Set is insane.  This is what I would think you would find at a local park.  Tons of activities beyond a swing and slide making it perfect for all your child's interests.  Rope climbing, tick-tack-toe, and more!  Currently on Rollback to $2199.97 + shipping.
The backyard swing set we chose was the Castlewood.
I loved that it offered more than just swings and slides.   She can play pretend with the built-in kitchen on the bottom (and maybe we'll send out some of the overabundances of play food with her).  While more than I had wanted to spend, I found the value would greatly outweigh the cost.  For the price, I anticipate this should last us at least 6 years (given we had our first used for 4 or 5 years).  That makes it roughly $140 per year for my 2 kids to play,  Plus, there's the benefit of being able to send any cousins or playgroup friends outside to play to save me from cleaning the house.  If the playset lasts longer, the annual cost decreases!  Seems totally worth it to me.
Not quite what you're looking for?
Check out these small swing sets for small yards or toddlers!
Which backyard swing set would you love for your kids to have?

Was this article helpful?