This post contains affiliate links which may earn me commissions should you click through them and take certain actions. As an Amazon Associate I earn from qualifying purchases. See
full disclosure here
.
As a parent with two kids, I find it important to save money wherever I can. My son is still in diapers and he has a tendency to outgrow his clothing pretty quickly. That said, when I need to buy things, I prefer not to pay full price for anything. In fact, it's rare you'll find me paying full price for anything other than groceries or things we need at a particular moment.
I love coupons and sales. Don't most moms?
But, I also love making money. Several years ago, you would have caught me taking various surveys for points. I still participate in programs where I earn points for clicking through an email link. Those points rarely amount to much, but over time, they add up to a few dollars at some of my favorite retailers.
With Dealspotr, I get the best of both worlds! I can search for coupons to save money, or share coupons to make money! Are you interested? Let's me show you how I use this site to help me do both ….
This is a sponsored post in collaboration with Dealspotr. Referral links are included and will earn me extra commission when you join and use the site … I know you'll love the extra ways to save money and make money with Dealspotr.
Why Dealspotr?
Dealspotr uses its members to submit, edit, and verify coupons and codes work. This site has been the most accurate and houses the most coupons I've ever seen!
When you become a member, you earn a significant amount of points for joining. These points accumulate towards Amazon Gift Cards.
Plus, Dealspotr is easy to use, whether you're hoping to save money or make a little. And, they make it easy to do both. As an added bonus, they also like to feature some of their influencers in a Q&A session. Guess who was a recent feature? Yeah, check out the Q&A with Ivy!
How to Use Dealspotr to Save Money
You can use Dealspotr to search for coupons to save money online or to print coupons for local establishments.
Your initial login will show you trending coupons and sales, and include a bar indicating the likelihood that the coupon or sale is accurate. To the right, you will see a Live Feed of the coupons being added or updated.
Looking for something in particular? Up in the top right bar, you'll find a grey and white magnifying glass. This is your search button. Type in the retailer or product you're interested in. Here, you'll be given all deals relating to your search.
In my case, I wanted to find out if there were any online promotion codes for Carter's, so on the left side of the screen, I clicked "Promo Code." Use the left side of the screen to filter your view to exactly what you want to see. Clicking directly on the coupon code will take you to the website and automatically copies the code to your clipboard. This makes it easy to paste the promotion code into the appropriate space when you're ready to check out.
How to Make Money with Dealspotr
My favorite part of this website is that I can simultaneously seek out coupons to help me save money while either adding coupons or verifying them!
For starters, when you join Dealspotr, you get 1000 points.
Validate Coupons
Helping people save money is great. But, if I can earn points (or make money) while trying to save money, I'm on top of the world.
Did you find a coupon you liked and found it to work? Validate it to earn points towards your next gift card. Simply click the title of the coupon or sale (not the actual coupon code, or you'll be taken back to the retail site).
Next, click the validate button to begin the validation process.
Now, this is a fairly time consuming part. You actually have to go an add things to your cart and capture a print screen of the coupon being used. While it's not mandatory, it is highly recommended. Be sure to fill out as much information as possible. The more you complete and the better your description, the more your accuracy score will improve. The better your accuracy score, the bigger the multiplier on points you'll receive.
On this particular validation exercise I earned 122 points in my account.
Add Coupons to Dealspotr
This is an excellent way to earn more points. However, it is also the most frustrating. Because of the large number of Dealspotr members, I've found it difficult to come across a coupon or promotion code that wasn't already added to the directory.
Luckily, however, even if you try to add a coupon or deal that's already there, it's really easy to validate from that point.
To add a coupon, sale, or promotion code, simply hit the blue Add a Deal button toward the top left of your screen.
Daily Bonus Opportunities
Every day, you can do about 4 activities to earn bonus points. These may vary from day to day, but they're generally easy opportunities, like sharing a couple deals and validating a couple coupons or sales. You can find your daily checklist in the top right bar, indicated by a checkmark and a number in an orange box.
Refer to Make Money on Dealspotr
When you click on the orange rectangle at the top of your screen, you can check in on your progress toward your Amazon gift card. There's also a little blue "refer" link, and this is where you stand a chance to make some passive "income".
For starters, if you join Dealspotr through my referral link, you will be gifted 5000 points, instead of the 1000 for joining on your own.
When you refer others to Dealspotr, you will gift them 5000 points to get them started, and then you earn 20% of their points for the lifetime of their membership.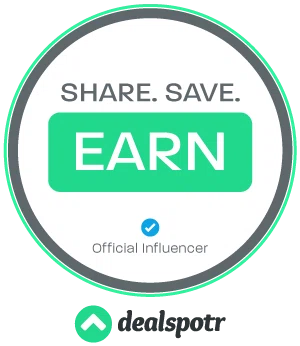 How will you be using Dealspotr? Save money, make money, or both?
Let me know if you join, and if you run into any issues with Dealspotr. I'd love to help you save money (and make money) with this site, so if you have questions, I'm happy to answer them!
Was this article helpful?