Inside: For those of you hoping to extend summer, check out these cute watermelon activities for preschoolers.  Best of all, they're easy crafts and activities that won't take up a lot of time!
Here it is  … FALL.  And you'd think I'd be writing about pumpkins.  I mean, who doesn't love Fall and Pumpkins … and Pumpkin Spice Lattes?  If you don't … let's not speak about it lest I become a little distant with you *wink*.
So, I would have written about Fall and Pumpkins, which I've done before like when I wrote the Welcome Fall Roundup last year or sharing pumpkin crafts and activities.
But, some people seem to want to extend summer a little longer and are looking for watermelon activities and crafts for their kids.
Forgive us Floridians for being bitter about extending summer with you.  If you're in Florida, you know that even though we've entered Fall, it will feel like summer for a few weeks to a month, and it only lasts a little while.
We like to soak up the couple of weeks with our pretty sweaters and boots while it lasts, if you know what I mean.
This post contains affiliate links which may earn me commissions should you click through them and take certain actions. As an Amazon Associate I earn from qualifying purchases. See
full disclosure here
.
12 Adorable Watermelon Activities for Preschoolers
When I think of Summer, I always think of watermelons (and strawberries).  What kid doesn't just love watermelons?  My son doesn't seem to, but he's currently a picky eater.
Watermelons are sweet, cool, and refreshing … exactly what one needs to feel better about a hot summer day in Florida (as well as a thermostat set to 70 degrees all day with a fan on full blast).  At least, that's my opinion on the matter.
But, we can't sit and eat watermelon all day, can we?
And preschoolers aren't always very good at spitting watermelon seeds either.
So, help foster their love of watermelons with these fun watermelon activities and crafts.
Find the Letter: W is for Watermelon from 3 Boys and a Dog
Watermelon Play Dough Counting from Sugar, Spice & Glitter
Paper Plate Watermelon from Easy Peasy and Fun
Felt Watermelon Seed Counting Activity from SAHM, plus…
3D Paper Fruit (includes watermelon) from Easy Peasy and Fun
Summer Story Time Ideas with The Watermelon Seed from Homebound But Hopeful
Paper Plate Watermelon Fan from Crafts by Amanda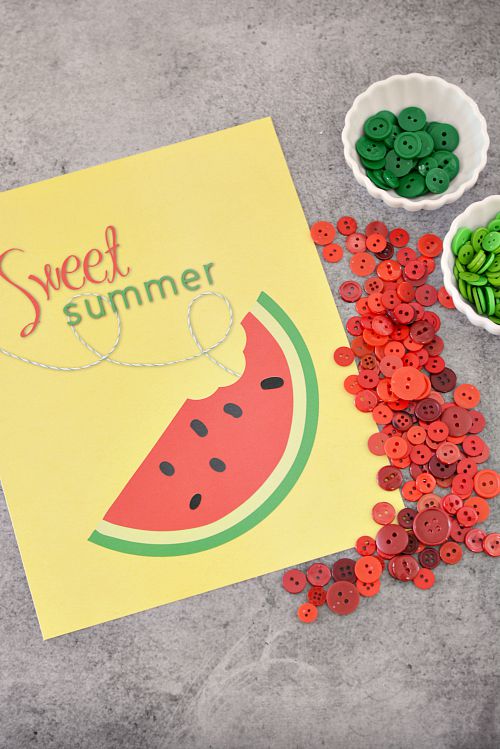 DIY Sweet Summer Watermelon Button Craft from A Cultivated Nest
Watermelon Handprint Craft from It Happens in a Blink
Handprint Art: W is for Watermelon by Crystal & Co
Wonderbug Watermelon Craft for Kids from Kolcraft
Puffy Paint Watermelon Craft for Kids from Crafty Morning
What's your favorite watermelon activity or craft?
Was this article helpful?