This post contains affiliate links which may earn me commissions should you click through them and take certain actions. As an Amazon Associate I earn from qualifying purchases. See
full disclosure here
.
This message has been approved by my husband. Do you wonder what special things to do for your husband to show your affection? I share how to show love to your husband in 15 ways and continue building on your marriage.
In a couple of weeks, it will be Valentine's Day. It's a day I've always considered to be too commercialized, though probably a perfectly good reminder for someone to show someone they care … because let's face it, sometimes we forget.
Before I met my husband, I wasn't particularly fond of the holiday. I mean, how special is a night that all men go out and spend too much money on roses, chocolate, and a nice meal? The hundreds of couples heading out for the night are all experiencing the same night. And what if you're like me, and don't actually like red roses? But that seems to be the standard, right? And, I know it didn't take a whole lot of thought to go out and buy exactly what's been advertised on television. It was a rare thing to experience someone thinking outside the box.
Even when my husband and I were dating, I didn't choose to make a big deal out of Valentine's Day. Except I remember, once, I cooked him a spaghetti bake with heart-shaped crescent rolls on top.
What a pain in the ass! But, I spent the time because of the love I felt for him.
Now that I'm a mom, I don't exactly have time to slave over the stove shaping dough into shapes that express my feelings. And, I still don't prefer to make a big deal out of Valentine's Day. Instead, I prefer to think about showing my love to my husband in small ways throughout the year.
That's what I want you to consider, too. What better time than February? With Valentine's Day coming up, I challenge you to show your husband you love him using a few (or all) of the suggestions here. Some require very little time or money. Other options are a little more involved.
Either way, have some resolve to show your husband affection more often than Valentine's Day or your Anniversary. I'm even going to use my list to remind myself to do this more frequently throughout the year.
*Disclaimer: Affiliate links are included in this post.
How to Show Love to Your Husband: 14 Suggestions
Want to hear something really cool before we start? I consulted with my husband to ensure I covered a list he would approve of. Not only did he mention items I had on my list, but he provided a few I wasn't sure I wanted to list. His input, though, was exactly the motivation I needed to give you real recommendations of special things to do for your husband to show him you love him.
So, how can you show your husband you love him?
1. Love notes
Take a couple of minutes to write a few love notes or compliments. Use ripped up paper, sticky notes, or special stationery… whatever you feel like. Randomly place a love note somewhere for him to find, unexpectedly.
Need some inspiration (or some of the work done for you)? Check out the Love Letter of the Month Kit from Dating Divas.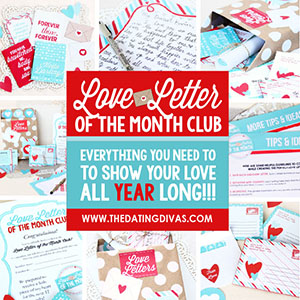 2. Unexpected texts
If you think about your spouse sometime during the day, tell your husband you love him by sending a quick text message. Bonus points for sending a suggestive message.
Need some help coming up with text messages to show your husband you love him? How about 365 days of sample text messages!!!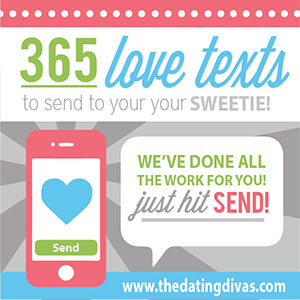 3. Cooking a favorite dish
Whether a favorite meal, side dish, or dessert, take some time to cook something he loves. This is one of my favorite ways to show my love to my husband.
If your man is a simple creature, you may find this to be an easy way to show him you love him.
4. Thoughtful gift
This doesn't have to be an expensive gift. Showing your husband love doesn't have to be expensive. A sweet book for couples to fill in about each other, a box or bag of candy that he loves, or a handmade treasure is perfect. A random, unexpected gift is always appreciated.
5. A hug
A hug may be one of the easiest and best ways to show love to your husband.
Give them more often.
The best thing about hugs is that they're usually not one-sided, so when you give a hug, you receive one.
6. A kiss
Surprise your husband with a kiss as you walk by. Doling out a kiss during a stressful moment or in passing when least expected is a sweet way to show your husband affection.
7. Make a love list
Make a list of all the reasons you can think of that you love your husband. Give yourself a few quiet minutes to start your list and then work on it over the course of a few days. Sometimes things pop up that remind you of why you fell in love in the first place.
8. Go on a date
Give your husband some quality alone time! Of course, getting away from the kids is good for you both, but going on a date is a wonderful way to reconnect. Date night is a great way to show your husband you understand your marriage means as much to him as being a mom does.
Date night doesn't have to be expensive, but thoughtful. If you're looking for date night ideas, check out this Date Night Guide that will help you both come up with date night ideas together, plus some other cute date night specials.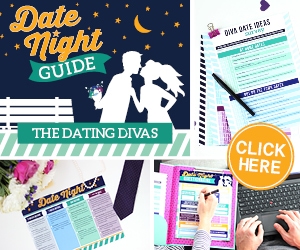 9. A massage or back rub
This doesn't have to mean anything more than showing your love and appreciation for your husband. Giving him a few minute massages can help him relieve stress and let him know you care.
10. Pick a man movie
When you sit down to a movie at home (or on your date) willingly choose a movie genre he normally likes. Pay attention and you might find that it opens the door to some conversations … and you might learn something new about the man you love.
11. Give him a night out
Don't simply let him have a guy's night, suggest it. And, don't include any drama or guilt-tripping! You know your guy values his personal identity and needs some family-free time. You may even be rewarded with the suggestion to take more free time of your own.
12. Cop a feel
How often do you get groped in passing? It's a guy thing… being physical is their way of showing affection. But, don't let it stop there … get frisky and cop a feel.
13. Initiate sex
This may seem like a lot to ask of a tired, overworked mama, but it will mean a lot. Your husband will feel wanted and attractive, which they like as much as you do. The bonus is that you can do this earlier in the evening because you know how he likes to wait until you're ready to go to sleep at night.
14. Take seductive images
Show a little (or a lot) of skin … the truth is, it doesn't take much. But, the more you show, the better. Send one via that random text. Bonus points if you schedule a boudoir photoshoot and give him the images.
It doesn't take much to make a man happy, really. But, that doesn't mean we shouldn't continue trying.
Instead of waiting for a day on the calendar, try to implement a few of these suggestions throughout February to show your husband you love him. Then, work on trying to remember them throughout the year. I'm really excited about trying to continue improving my marriage and showing my husband more affection!
15. Share flirty memes
Okay, you already know about sending some unexpected texts, but don't forget about the power of a funny meme … especially flirty memes for him!
How do you plan to show your husband affection this month? Will you try to continue showing love for the rest of the year?
Was this article helpful?