This post contains affiliate links which may earn me commissions should you click through them and take certain actions. As an Amazon Associate I earn from qualifying purchases. See
full disclosure here
.
It's hard to believe S has completed Kindergarten.  It feels like only yesterday we were reading books to prepare for preschool.  Just a moment later, she went to her first day of preschool and I was overcome with emotions I hadn't expected.
So how in the world has she already finished Kindergarten?
Her baby and toddler years seemed to drag on.  Yet, here we are in our post-Kindergarten summer.  The days are flying by and I feel like just 2 minutes ago we were in her classroom on the first day of Kindergarten, choking back tears.  My toddler son seems affected by the time warp even … somehow we didn't get nearly as much time with him as a baby.  Though, to be honest, I'm kind of grateful for, because having a high-needs baby is exhausting and challenging.
Now, I'd been a bit overwhelmed with the idea of having both kids home for several months straight.  If I thought I was experiencing any mommy burnout, I'm definitely going through it now.
So, what's a mom to do when she doesn't know how to entertain two children 4 years apart?
Guys, I've planned so many activities.  We have a vacation coming up and I want to take them on at least one trip on my own, despite my actual feelings about being alone with them.  Then, of course, I plan to do all the normal activities we have available around the city.  There's library story times, zoo, splash parks, and more.
But, what about the days we have to sit at home?  There's going to be so many more days at home than the ones we'll leave the house.  Entertaining kids over summer break at home is more challenging because I often have to limit them to the playroom.  And they get bored of their toys easily!  Plus, entertaining the tot is much more of a challenge than entertaining an independent (almost) 6-year-old.
The truth is, I can't be constantly entertaining kids over summer break.  I have things to do and little time to do them as it is.
Though we have our summer bucket list created, I've decided I'm not exhausting myself or pretending to be Super Mom.  Some days just have to be regular days at home.
Entertaining kids over summer break
What I decided is that we'd make the most of our daughter's days with a journal.  When I started to create it, I hadn't really thought much about it, just throwing some things on a document.  What transpired from there was an awesome, engaging journal for budding writers and artists!  What I realized, as I was creating her journal was that I was giving her more than busy work!  I was giving her an opportunity to reflect on her day, helping her build her memory skills.  The book page allows us to continue working on reading comprehension.  And, overall, she'll be working on her reading and writing skills while also tapping into her creative side with the drawing sections.
Then, it occurred to me that she can do this every summer and keep her summer journals as a fun keepsake.  One of the things I wish most is that I had a better memory … there's so much of my childhood I can't remember.  I mean, I remember camping in the mountains nearly every year, but I don't remember too many details aside from a limited few that stand out in my mind.  She and I can appreciate this journaling as she gets older with the writing prompts.  When she's old enough, she can transition to a completely open-ended journal.
To start, I gave her an introduction sheet detailing a little bit about herself.
In lieu of a typical summer reading book log, I created a page her her to write and draw about a book or story she read.
Then I created two separate activity/travel pages with writing and drawing prompts.  The first was an "I went to visit" page geared toward any trip we look, whether local or further away.  If we went to visit a relative, she could detail that on this sheet.
The next was much more open-ended.  If I had no plans for a particular day, this sheet allows to her write about what she saw.  If she watched a particular movie, show, or saw something out on an impromptu walk, she could record it through writing and drawing.
Finally, I created a Vacation sheet.  Here, she can give a brief overview of our family vacation and draw a picture of her favorite part.
I loved what came of this so much I wanted to share it with you too!  I'm really excited about this and can't wait to see what my daughter comes up with this summer.  How about you?
Free Summer Journal Printable
Would you like your own Summer Journal?  Sign up for my email newsletter, then you'll receive a link to my resource library.  You'll be able to print your summer journal, just don't forget to save it so you can print extra pages as you need them.
No matter how you're entertaining kids over summer break, you'll find this summer journal printable helpful!  You'll be helping your children with thinking skills, building memory, and providing them a keepsake.  At the very least, you can find a few peaceful moments as they're busy journaling!
Don't want my logo on your printable?
I get it!  The logo kinda messes with the overall appearance of the journal, doesn't it?  So, I created a PDF that has removed the logo, just for you!  I'm just asking that you pay for my time.  As a bonus, the paid for version of the journal includes some extra blank pages with lines for the kids who like to write.
You can print pages of your copy as much as you like for private use only.
 "Summer Journal" by J. Ivy Boyter on Ganxy
Would you like more summer boredom help?  Dating Divas has a summer boredom pack perfect for your kids!!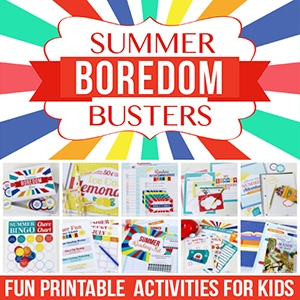 Other Posts You May Like:
Was this article helpful?